Quiche is one of my favourite foods, especially in the summer because it's good even when eaten cold and you don't need to prepare anything else (besides a bit of green salad on the side but I don't consider that "preparing"). Quiche is also a great way of using up leftovers.
So I thought we could have a topic for quiche recipes.
I'll start with this one because even though I've made countless quiches in my life, I only have pictures for this one (I just don't usually take pictures of the things I cook).
Broccoli and blue cheese quiche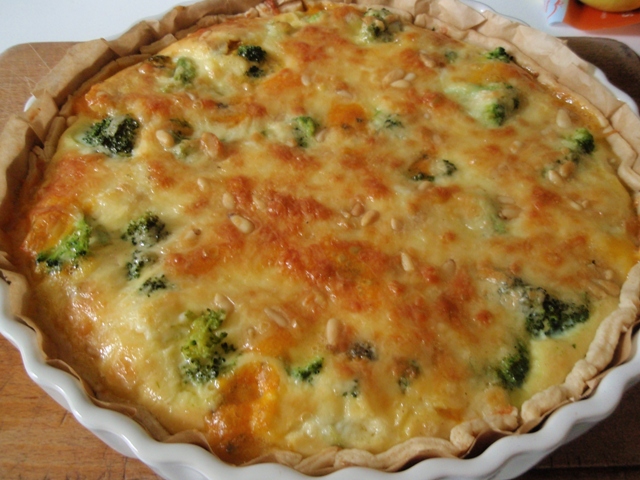 You will need:
- 1 roll of shortcrust pastry (or you can make your own if you have the time and patience)
- 250g of broccoli (fresh or frozen)
- 150g of blue cheddar (you can use any type of blue cheese in fact -Roquefort is great with broccoli)
- 200 ml of double cream
- 3 eggs a handful of grated cheese (you can use any grated cheese you like -emmental, cheddar, mozzarella...)
- a handful of pine nuts (this is optional)
Method:
1. Preheat the oven to 200°C.
2. Unroll the pastry, place in a tart dish, prick the surface with a fork and bake blind for 15 minutes until just firm to the touch.
3. Leave pastry to cool and reduce the heating of the oven to 180C. Cut the broccoli into florets (if you use frozen, you don't need to do that) and steam or boil for a very short time (I like to keep them crunchy but cook for longer if you like them tender or mushy). Cut the blue cheese into small cubes.
4. Arrange the broccoli and the blue cheese on the pastry. Sprinkle the pine nuts on top. In a bowl, beat the eggs with the cream and the grated cheese.
5. Pour over the broccoli in the pastry. Bake for 20-30 minutes, until set and brown. Serve with salad and bon appétit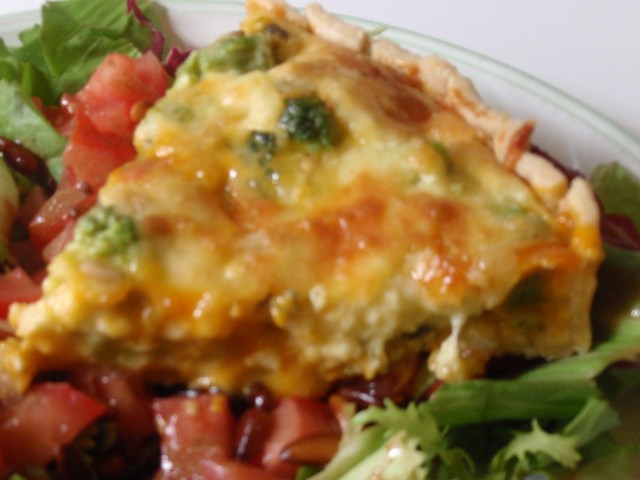 So if you try it let me know what you think about it! I apologise about the bad quality of the photos. I guess I'm bad at taking pictures in general

But please tell me if you like it and share your favourite quiche recipes too